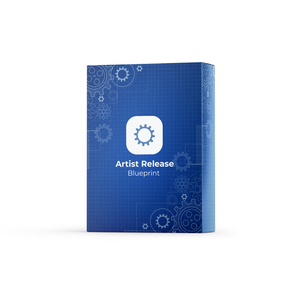 Introducing the ultimate solution for artists looking to take control of their music release schedule – The Artist Release Blueprint. Designed by industry experts and used by major record labels such as Sony Music, Interscope, Universal Music, and Downtown Records, this powerful schedule will revolutionize the way you plan and execute your music releases.
Why choose the Artist Release Blueprint?
With the Artist Release Blueprint, you'll have access to a comprehensive guide that will walk you through every step of the release process, from creating a marketing plan to distribution and promotion.
Step-by-Step Guidance:

Our meticulously crafted blueprint guides you through each release stage, from constructing a powerful marketing plan to seamless distribution and promotion.

Industry Proven:

Trusted by major record labels, the Artist Release Blueprint has a track record of success that speaks for itself.

Take Control:

Say goodbye to chaos and uncertainty, and seize the reins of your music career.
The release blueprint gives you:
Comprehensive Promotion Roadmap: Unlock the secrets to effective promotion with a detailed list of actionable steps.

Unlock the Gatekeepers: Learn how to engage with seven different gatekeepers who hold the key to your music's success.

12 Weeks Prior to Release: Discover what you need to do in the crucial weeks leading up to your big release day.

Actionable Items with Descriptions: Clear, concise instructions ensure you know exactly what to do at every stage.

Timeline View: Visualize your entire release plan at a glance for better organization.

Promoter, Radio, Artist, Influencer, Streaming Curator, Editor and Useful Moguls Views: A concise and organized presentation of the different views covered, making it easier to understand their respective focuses and benefits.

(Optional) Boost Up Strategy: Build and grow your fanbase on Instagram with proven tactics to increase your online presence and engagement.